Pontoon/Tritoon Dolly
The Newly Redesigned ME-350 Pontoon/Tritoon Dolly features rubber coated 18" long adjustable bunks allowing it to be used for several different shaped pontoons or a standard hull boat. 1 order is for a single pontoon dolly.
Pontoon/Tritoon Dolly - ME-350
Scroll down for more images.
Capacity

1500 lbs per dolly

Dimensions

Front to Back: 21 1/2 inches
Width: 23 1/4 inches
Height: 8.5 inches (pontoon) or 13.1 inches (tritoon)

Weight

50 lbs

Materials

11 Gage Steel
Rubber Coated Bunks
5" Swivel Casters, 1000 lbs Capacity Each
Smooth Black Powdercoat
Shipping

Please note the shipping quote at checkout is for a continental US business address.
Call our Sales Team at 1-800-305-8117 if you are shipping to a residential address or internationally.
Our updated Pontoon/Tritoon Dolly design is great for displaying and storing pontoons as well as solving the problem of unloading a tritoon off of a scissor style/center lift trailer. The interchangeable dual height brackets are secured with 2 bolts each and can be switched from tall to short in order to work when offloading a tritoon (tall) or a regular pontoon (short) given the significant height difference between the two when on a scissor style/center lift trailer due to the axles. See the images below for a visual explanation.
Both sides of the dual height bracket were designed to fit round, elliptical, and v-shaped pontoons or various standard boat hulls with an innovative adjustable support system. No tools are needed to adjust between the angles, making the change easy and convenient while allowing the dollies to be used for many purposes. Unlike other dollies, this specific design keeps the bunks situated between the strakes instead of hitting them. The longer than average 18" bunks create a more stable surface by spreading the load over a larger area of pontoon to help prevent denting. In addition, our bunks are dipped in a durable rubber coating creating a smooth surface for your pontoons to rest on. Our rubber coating is ideal because it will last longer and stay smoother than the carpet covered bunks used by other companies.
The adjustable design and rubber coated bunks make the ME-350 a versatile and very sturdy dolly. The low, wide "v" shape of the frame allows the pontoon to stay as low to the floor as possible, making it easy to board the boat while creating a stable base. The hard synthetic 5" casters are both durable and heavy duty. During the design process aesthetics were a priority. The black powder coated frame and casters are attractive yet will not detract attention from the pontoon, instead blending into the floor.
*Please note 1 order is for a single Pontoon/Tritoon Dolly.
The easy to use adjustable supports make the ME-350 a versatile dolly. Use it to move or store pontoons in your shop, your showroom, or at a tradeshow in addition to many other uses. No tools are needed to adjust the angle, simply lift the bar out of the groove and press firmly into another. 2 bolts each are used to change the brackets from the short to tall configuration.
Easy to Adjust

No tools needed to adjust the angle, simply lift the bar out of the groove and press firmly into another.

Short Brackets

The short bracket accommodates all regular pontoons

Tall Brackets

The tall bracket accommodates unloading tritoons from scissor style trailers
Round Pontoon

The lowest angle fits round pontoon shapes

Eliptical Pontoon

Center angle fits elliptical pontoon shapes

V-Shaped Pontoons

Use the highest angle for v-shaped or various standard boat hulls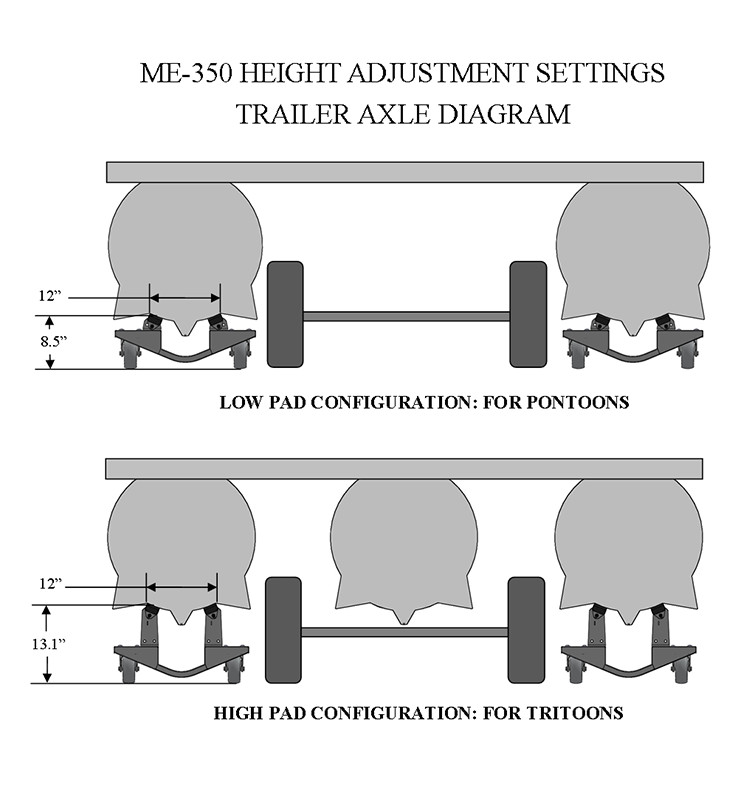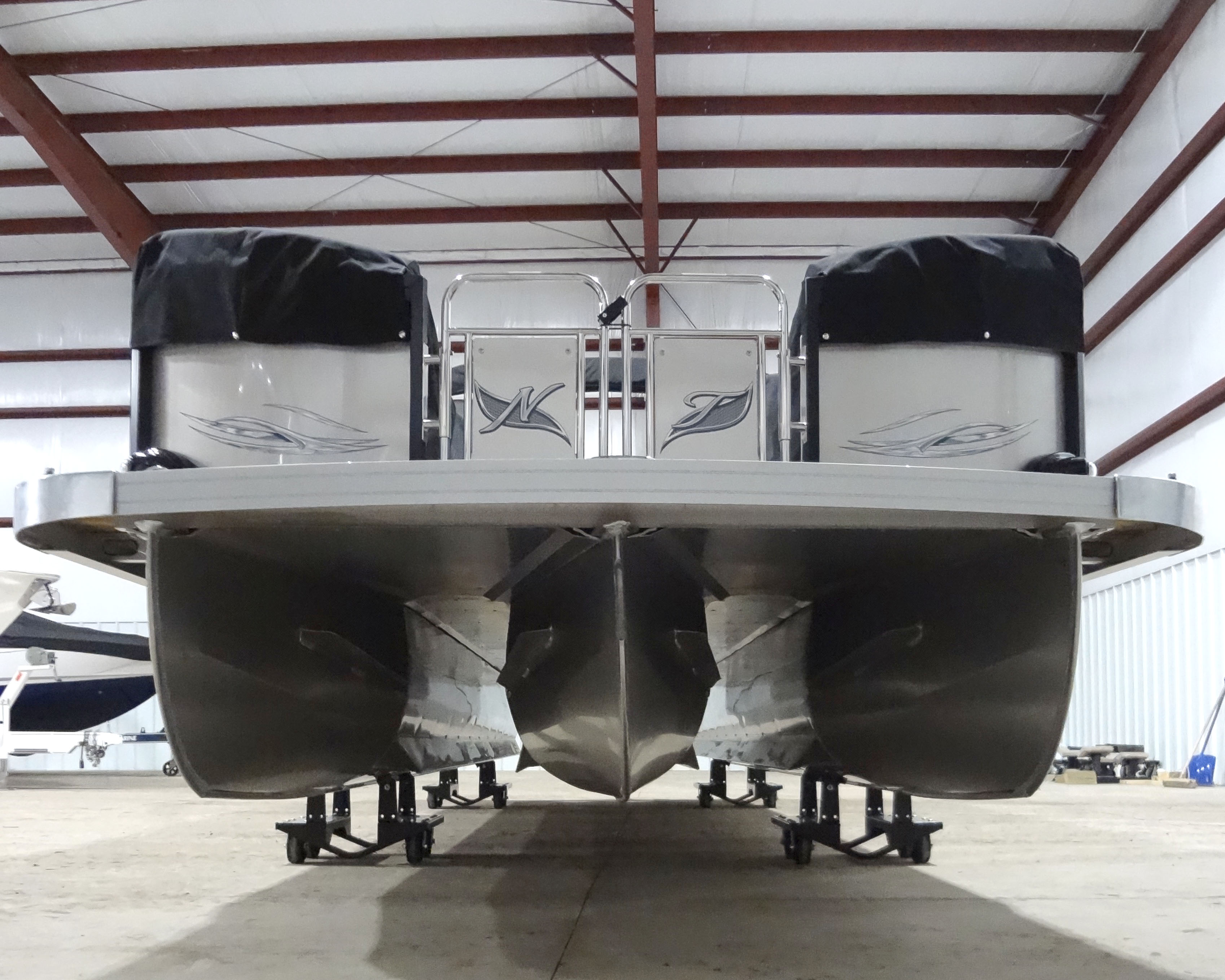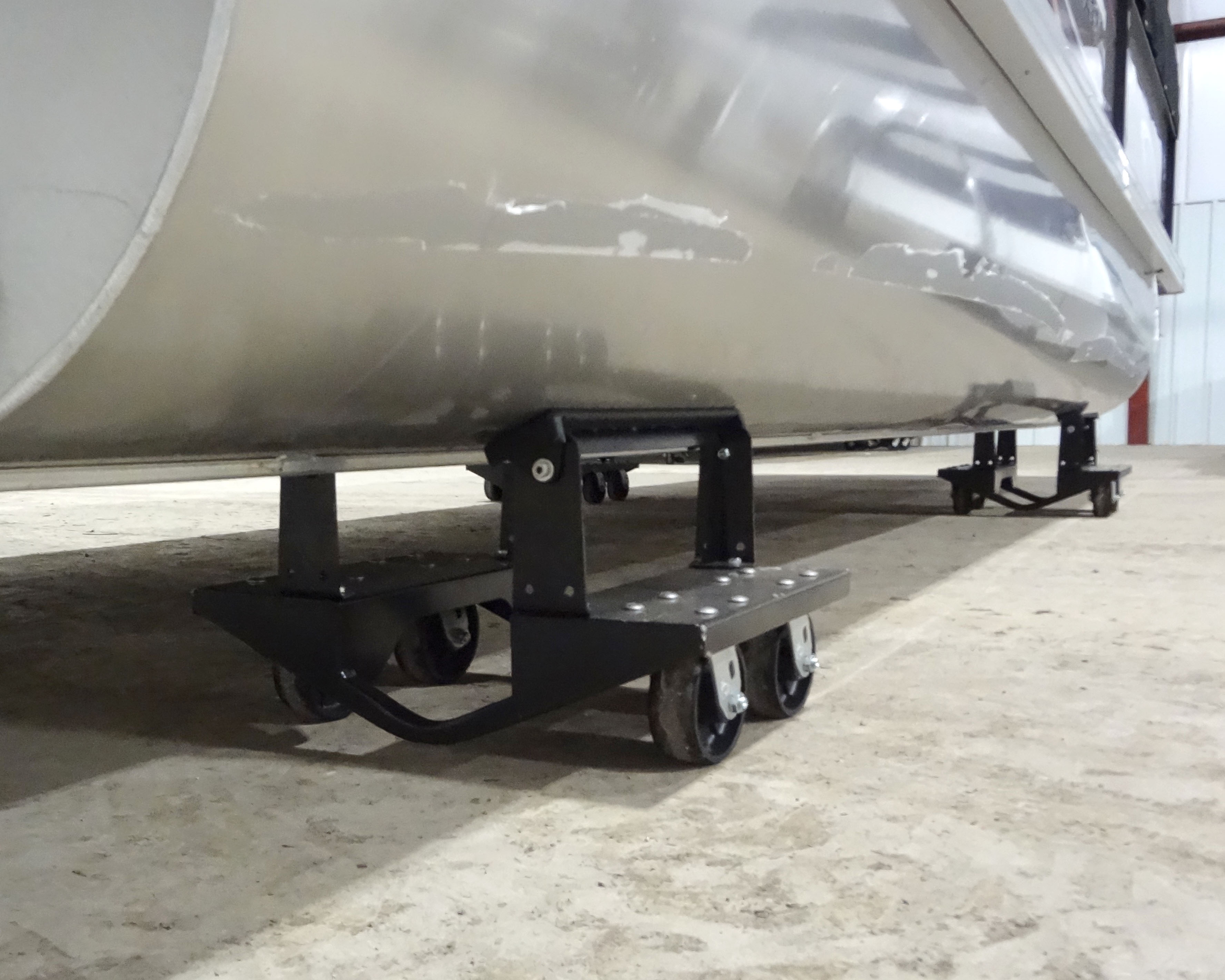 Units in box: 1
Will this dolly work with my pontoon?
Probably. Our adjustable design means the dollies work well with all shapes of pontoon, and the 2 heights allows for use with the scissor style tritoon trailers.
Why doesn't the ME-350 have braking casters?
Generally speaking the ME-350 dollies are used in a carpeted showroom or trade show booth, which means there is too much friction to roll anywhere. We do provide small c shaped blocks to help prevent possible rolling in a flat concrete area.
Can I get the ME-350 in a different color?
Yes, but there will be a longer lead time and most likely an extra charge.