Small Outboard Display Stand
ME-90 is a great way to show off your small outboard motor. Displays outboards of 5 horsepower or 60 lbs with maximum stability and a low profile design. May not fit all antique outboards.
Small Outboard Display - ME-90
The ME-90 is kept in stock in low quanities and may have a 4-5 week lead time.
Capacity

Modern Outboards 5 hp or up to 60 lbs
Please note: May not fit all antique outboards

Dimensions

Length: 20 inches
Width: 18 inches
Height: 12 1/2 inches

Weight

12 lbs

Materials

14 Gage Steel
Textured Black Powdercoat
Shipping

Please note the shipping quote at checkout is for a continental US business address.
Call our Sales Team at 1-800-305-8117 if you are shipping to a residential address, school, military location, or internationally.
The Sternmaster Small Outboard Display Stand is a great way to show off your small outboard motor. Created with a low profile design to make your outboard stand out amongst the rest, but with a wide enough base to provide maximum stability. Manufactured out of 14ga. steel with a durable black wrinkle powder coat finish. Will hold any standard outboard, up to 5 horsepower or 60lbs, using bolted clamps with foam pads to avoid damaging your outboard and giving it a snug fit. Please Note: May not fit all antique outboards due to variations in the cavitation plates.
Will the ME-90 fit my outboard?
Generally speaking, the ME-90 works with modern outboards up to 5hp or 60 lbs.
Not all antique outboards will fit. Sometime in the mid 1950's the cavitation plates became generally standardized and have not varied much to date. Before the mid 1950's outboards were manufactured many different ways and the cavitation plate design went from non-existent to many unusual designs. Some of these older designs will not work with our display stands. The image below shows the maximum width of a cavitation plate that will work with the ME-90, 4.2".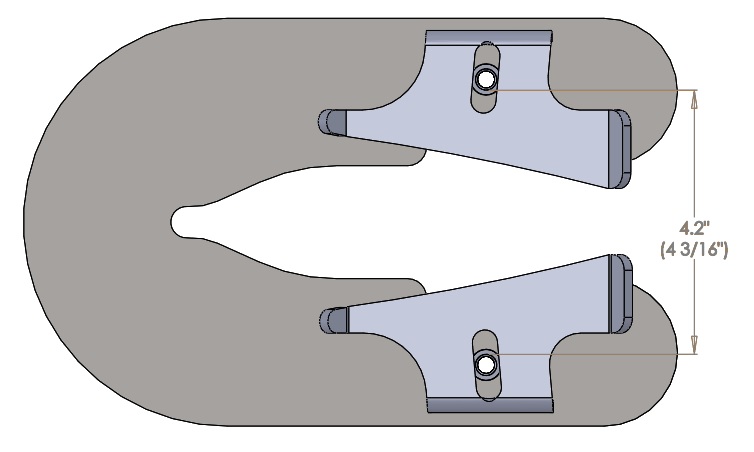 Can I get the ME-90 in a different color?
Yes, but there will be a longer lead time and most likely an extra charge.
We stock the ME-90 in black as pictured.
Any other color will require an extra charge and longer lead time. Please contact us with your desired color for quotes